Epic Kids Book Club Selection: The Invention of Hugo Cabret
THE INVENTION OF HUGO CABRET
AUTHOR: Brian Selznick
GENRE: Middle-Grade Historical Fiction
AGES: 9+
RATING: 5 stars
SYNOPSIS: Orphan, clock keeper, and thief, Hugo lives in the walls of a busy Paris train station, where his survival depends on secrets and anonymity. But when his world suddenly intersects with an eccentric, bookish girl and a bitter old man who runs a toy booth in the station, Hugo's undercover life, and his most precious secret, are put in jeopardy. A cryptic drawing, a treasured notebook, a stolen key, a mechanical man, and a hidden message from Hugo's dead father form the backbone of this intricate, tender, and spellbinding mystery.
MY FAVORITE QUOTE FROM THIS BOOK: "Maybe we are all cabinets of wonders."
MY FAVORITE THING ABOUT THIS BOOK: The format! While there is still text, a lot of the story is told through beautiful illustrations. I loved seeing all the characters drawn out and it helped me visualize the magical settings.
MY FAVORITE CHARACTER IN THIS BOOK: I love Hugo! He is so creative and the journey he undertakes is inspiring. I also adore the "eccentric, bookish girl" who becomes entangled in Hugo's mystery.
FANS OF THIS BOOK MAY ALSO LIKE: The Mysterious Benedict Society by Trenton Lee Stewart, A Series of Unfortunate Events by Lemony Snicket, Wonderstruck by Brian Selznick
THREE MORE BOOKS TO TRY
JUST HELP!: HOW TO BUILD A BETTER WORLD
AUTHOR: Sonia Sotomayor
AGES: 4 – 8
SYNOPSIS: In a story inspired by her own family's desire to help others, Supreme Court Justice Sonia Sotomayor takes young readers on a journey through a neighborhood where kids and adults, activists, and bus drivers, friends, and strangers all help one another to build a better world for themselves and their community.
THE TANTRUM THAT SAVED THE WORLD
AUTHOR: Megan Herbert and Michael E. Mann
AGES: 5 – 9
SYNOPSIS: Sophia's minding her own business when––bing bong!––the doorbell announces an unexpected guest: a polar bear. Despite Sophia's protests, he walks right in, making himself at home. His ice cap is melting, where else is he supposed to go? This picture book is about find your voice and taking collective action.
MY FIRST BOOK OF MICROBES: VIRUSES, BACTERIA, FUNGI AND MORE
AUTHOR: Sheddad Kaid-Salah Ferrón
AGES: 9 – 12
SYNOPSIS: My First Book of Microbes is the ideal STEM book for children––it uses fascinating bite-size facts, clear and simple explanations, and attractive and absorbing illustrations to demystify the hidden world of microbes.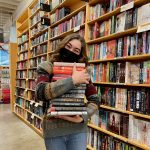 Avery Finley, 16, is an avid reader and book reviewer. When not reading, you can find her playing volleyball, hanging out with friends, or with one of her pets! Follow her on Instagram and TikTok at @readbyfin.