Epic Kids Book Club
By Avery Finley
The Land of Stories: The Wishing Spell
AUTHOR: Chris Colfer
GENRE: Middle Grade Fantasy
AGES: 9+
SYNOPSIS:
Alex and Conner Bailey's world is about to change, in this fast-paced adventure that uniquely combines our modern day world with the enchanting realm of classic fairy tales. The Land of Stories tells the tale of twins Alex and Conner. Through the mysterious powers of a cherished book of stories passed down from their grandmother, they leave their world behind and find themselves in a foreign land full of wonder and magic where they come face-to-face with the fairy tale characters they grew up reading about. Alex and Connor fight some of fairy-tales' most iconic villains, meet courageous heroes, and uncover secrets long buried in the Land of Stories. But after a series of encounters with witches, wolves, goblins, and trolls alike, getting back home is going to be harder than they thought.
RATING: (1-5 stars) 5 stars!
MY FAVORITE THING ABOUT THIS BOOK WAS:
I loved seeing my favorite fairy-tale characters interact with the modern world! Reading about princesses and witches learning to use a cell phone was pretty hilarious!
MY FAVORITE CHARACTER IN THIS BOOK WAS:
My favorite character was definitely Alex! She is such a good role model and overall kind person! She is friendly to every magical creature they meet on their adventure in the Land of Stories!
FANS OF THIS BOOK MAY ALSO LIKE:
Nevermoor by Jessica Townsend, The Train To Impossible Places by PG Bell, Wings of Fire by Tui T Sutherland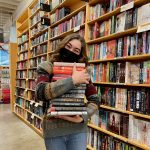 Avery Finley, 16, is an avid reader and book reviewer. When not reading, you can find her playing volleyball, hanging out with friends, or with one of her pets! Follow her on Instagram and TikTok at @readbyfin.