Epic Kids Book Club Selection: THE GIRL WHO DRANK THE MOON
By Avery Finley
AUTHOR: Kelly Barnhill
GENRE: Middle Grade Fantasy
AGES: 9+
RATING: 5 Stars
SYNOPSIS: Every year, the people of the Protectorate leave a baby as an offering to the witch who lives in the forest. They hope this sacrifice will keep her from terrorizing their town. But the witch in the forest, Can, is kind and gentle. She shares her home with a wise swamp monster named Glerk and a perfectly tiny dragon, Fyrian. Xan rescues the abandoned children and delivers them to welcoming families on the other side of the forest, nourishing the babies with starlight on the journey. One year, Can accidentally feeds a baby moonlight instead of starlight, filling the ordinary child with extraordinary magic. Xan decides she must raise this magical girl, who she calls Luna. Soon, it is up to Luna to protect this who have protected her.
MY FAVORITE QUOTE FROM THIS BOOK: "Knowledge is power, but it is a terrible power when it is hoarded and hidden."
MY FAVORITE THING ABOUT THIS BOOK: I loved how unique the magic system is! I have never read a book quite like it before.
MY FAVORITE CHARACTER IN THIS BOOK: My favorite character is Xan because she is described as a scary witch by the people of the town but turns out to be very kind and welcoming.
FANS OF THIS BOOK MAY ALSO LIKE: A Tale of Magic by Chris Colfer, Amari and the Night Brothers by B.B. Alston, The Train to Impossible Places by P.G. Bell
THREE MORE BOOKS TO TRY
THE SECRET EXPLORERS AND THE MOON MISSION
AUTHOR: SJ KING
AGES: 6 – 8
SYNOPSIS: In this fun, fact-filled children's book, space expert Roshni and geology expert Cheng blast off into outer space on a mission to the moon. There, they must navigate the dangerous terrain to clear up space debris before it can interfere with a lunar mission!
NEW FROM HERE
AUTHOR: Kelly Yang
AGES: 9 – 12
SYNOPSIS: From the New York Times bestselling author of Front Desk comes a poignant middle-grade novel about courage, hope, and resilience as an Asian American boy fights to keep his family together and stand up to racism during the initial outbreak of the coronavirus.
SIR FIG NEWTON AND THE SCIENCE OF PERSISTENCE
AUTHOR: Sonja Thomas
AGES: 8 -12
SYNOPSIS:From the Desk of Zoe Washington meets Ways to Make Sunshine in this heartfelt middle-grade novel about a determined young girl who must rely on her ingenuity and scientific know-how to save her beloved cat.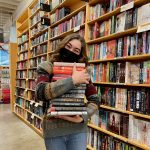 Avery Finley, 16, is an avid reader and book reviewer. When not reading, you can find her playing volleyball, hanging out with friends, or with one of her pets! Follow her on Instagram and TikTok at @readbyfin.