Epic Kids Book Club
By Avery Finley
BOOK TITLE: Daughter of the Deep
AUTHOR: Rick Riordan
GENRE: Middle Grade Fantasy
AGES: 10+
SYNOPSIS:
Ana Dakkar is a freshman at Harding-Pencroft Academy, a five-year high school that graduates the best marine scientists, naval warriors, navigators, and underwater explorers in the world. Ana's parents died while on a scientific expedition two years ago, and the only family she's got left is her older brother, Dev, also a student at HP. Ana's freshman year culminates with the class's weekend trial at sea, the details of which have been kept secret. She only hopes she has what it'll take to succeed. All her worries are blown out of the water when, on the bus ride to the ship, Ana and her schoolmates witness a terrible tragedy that changes the trajectory of their lives.The professor accompanying them informs Ana that their rival school, Land Institute, and Harding-Pencroft have been fighting a cold war for a 150 years. Now that cold war has been turned up to a full broil, and the freshman are in danger of becoming fish food. In a race against deadly enemies, Ana will make amazing friends and astounding discoveries about her heritage as she puts her leadership skills to the test for the first time.
RATING: 5 stars
MY FAVORITE THING ABOUT THIS BOOK WAS:
The science and ocean exploration elements of Daughter of the Deep were my favorite parts! I've always been curious about the ocean so I loved reading about it, especially in a school setting.
MY FAVORITE CHARACTER IN THIS BOOK WAS:
My favorite character was Ana, but I also adored her group of friends at Harding-Pencroft Academy.
FANS OF THIS BOOK MAY ALSO LIKE:
Percy Jackson and the Heroes of Olympus by Rick Riordan, The Storm Runner by J.C. Cervantes, Aru Shah and the End of Time by Roshani Chokshi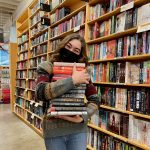 Avery Finley, 16, is an avid reader and book reviewer. When not reading, you can find her playing volleyball, hanging out with friends, or with one of her pets! Follow her on Instagram and TikTok at @readbyfin.