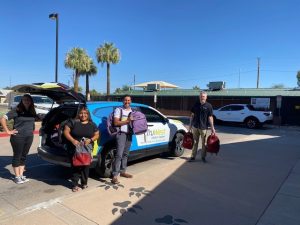 TruWest Credit Union's Annual School Supply Backpack Drive a Success
TruWest Credit Union continues to be a dedicated partner in education through the support of K-12 schools and universities throughout the local community. TruWest held its annual school supply backpack drive from May 23 through June 18. This week, TruWest employees delivered 96 backpacks filled with supplies to students at Galveston Elementary School in Chandler, Arizona. All the essentials plus more were donated and packed into the bags. Additionally, 30 laptops were donated to the school for student use.
"We are so proud to have been able to help students in our community start their school year equipped for success," said Community Development Manager of TruWest Credit Union, Rachel Caballero.
TruWest Credit Union operates as a cooperative providing its members with a lifetime of quality financial services and a culture of caring for its members, employees and communities. TruWest® Credit Union has eight branches in Phoenix.