Epic Kids Book Club
By Avery Finley
The Mysterious Benedict Society
AUTHOR: Trenton Lee Stewart
GENRE: Middle Grade Mystery
AGES: 9+
RATING: (1-5 stars) 5 stars
SYNOPSIS:
"Are you a gifted child looking for special opportunities?" When this peculiar ad appears in the newspaper, dozens of children enroll to take a series of mysterious, mind-bending tests. But in the end just four very special children will succeed. Their challenge: to go on a secret mission that only the most intelligent and resourceful children could complete. To accomplish it they will have to go undercover at the Learning Institute for the Very Enlightened, where the only rule is that there are no rules. As our heroes face physical and mental trials beyond their wildest imaginations, they have no choice but to turn to each other for support. But with their newfound friendship at stake, will they be able to pass the most important test of all?
MY FAVORITE THING ABOUT THIS BOOK WAS:
My favorite part was reading about these brilliant children solving puzzles and mysteries in ways that I could never have imagined! It taught me the power of thinking outside the box!
MY FAVORITE CHARACTER IN THIS BOOK WAS:
Kate is my favorite character in The Mysterious Benedict Society because she is so creative and can solve any problem with her handy bucket of tools!
FANS OF THIS BOOK MAY ALSO LIKE:
A Series Of Unfortunate Events by Lemony Snicket, The Jigsaw Jungle by Kristin Levine, The Wolf Keepers by Elise Broach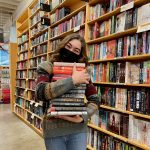 Avery Finley, 16, is an avid reader and book reviewer. When not reading, you can find her playing volleyball, hanging out with friends, or with one of her pets! Follow her on Instagram and TikTok at @readbyfin.