Epic Kids Book Club Selection: The World According to Humphrey
AUTHOR: Betty G. Birney
GENRE: Middle-Grade Fiction
AGES: 8+
SYNOPSIS: You can learn a lot about life by observing another species. That's what Humphrey was told when he was first brought to Room 26. And, boy, is it true! In addition to having fun- fun-fun in class, each weekend this amazing hamster gets to sleep over with a different student, like Lower-Your-Voice-A.J. and Speak-Up-Sayeh. Soon Humphrey learns to read, write, and even shoot rubber bands (only in self-defense, of course). With lots of friends to help, adventures to enjoy, and a cage with a lock-that-doesn't-lock, Humphrey's life is almost perfect. If only the teacher, Mrs. Brisbane, wasn't out to get him!
RATING: 5 starts
MY FAVORITE QUOTE FROM THIS BOOK: "You can learn a lot about yourself by getting to know another species. Even humans."
MY FAVORITE THING ABOUT THIS BOOK: Humphrey's adventures with the students! I loved seeing what they got up to each weekend when Humphrey wasn't at school. 
MY FAVORITE CHARACTER IN THIS BOOK: Humphrey! He brought so much fun to Mrs. Brisbane's classroom. 
FANS OF THIS BOOK MAY ALSO LIKE: Lulu and the Dog from the Sea by Hilary Mckay, Alone in the Night by Holly Webb, Rain Reign by Ann M Martin.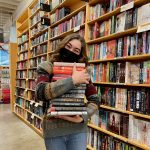 Avery Finley, 16, is an avid reader and book reviewer. When not reading, you can find her playing volleyball, hanging out with friends, or with one of her pets! Follow her on Instagram and TikTok at @readbyfin.